Acupuncture for kids on the GOOD MORNING AMERICA show

Watch this amazing clip from ABC News!
http://blog.moveyourqi.com/?page_id=193
For all new patients until the end of April 2009, please bring in your children for only $50.
New patients up to age 17 are able receive acupuncture for this special rate.
Please mention this email.
Limited time only for $50/session.
New patients under age 17 only.
My daughter turns 5 on May 5. Yes, she is my faithful patient. She faithfully takes herbs daily. I have taught Angilynn how to listen to her body. Since she was able to talk, she has been able to say, "Mommy, I have mucous in my nose." Thus, we treat her nasal discharge. She knows that a cough is not normal and that she has to cut down on the sweets and stop drinking cold drinks. My daughter knows the benefits of fruits and vegetables and she is a great example to all children (and adults) when she asks for more bok choy, broccoli and carrots. (I'm proud that even restaurant owners have taken pictures of her eating vegetables. No lie.)
It takes work, commitment and patience, all of which many of us have to practice daily with our children. I do not think that it is because I am lucky to have been blessed with a child who is willing to take herbs, get stuck with needles, receive massage and eat vegetables. I truly believe that it is because I have influenced her since she was in my womb.
I love children and I love helping them discover about their bodies. No, I don't have the special tools that this licensed acupuncturist has in the video clip, but I will get some if necessary. I have never seen those tools in my own mentors/teachers' clinics. I typically do massage/acupressure, aromatherapy and herbs for babies. My daughter received her first acupuncture treatment around age 1. This age is when I start doing acupuncture on babies. If you prefer the fancy instruments, I'll do my best to get them into the clinic asap.
For those of you who are familiar with my treatments, I'll answer the question you're probably thinking: No, children to do not receive acupuncture for 45 minutes like my adult patients do. I am lucky to put one needle in with the small ones. One thing to understand is that the "Qi" or the life force of babies/children is much more "Yang" than in adults. They love to move around like the wind. They're everywhere and they like to touch everything. Trying to get them to stay in one place can be quite an art, especially when they are toddlers. Many of you have heard me say this in the clinic, "The quality of a treatment is NEVER based on how many needles you receive. We can achieve amazing results with ONE NEEDLE." This is how acupuncture is oftentimes practiced on little ones. Angilynn is now 4 years old. She easily receives 2-4 needles at a time. She doesn't have anything specific to treat, so I strengthen her immune system. A typical treatment would be:
Large Intestine 4 and/or Triple Burner 5
Stomach 36
Lung 7
Spleen 6
This is used in a Dr. Tan's Balance Method fashion.
If I choose to do something more of a Traditional Chinese Medicine fashion, I'll do:
Stomach 36
Large Intestine 4
and add some yin points depending on circumstances
all points are done bilaterally
If she just wants one needle for the day, I choose:
Stomach 36
or
Large Intestine 4
These general points are often used to many acupuncture clinics to strengthen the immune system.
___
I recently prescribed Magnolia Clear Sinus to a 13-month old girl. Within a day, the mother, who is also a patient (as well as the husband) informed me that her nasal passages no longer were running.
I happened to treat her husband around the same time. His cough and cold symptoms improved dramatically after his first treatment. Unfortunately, he decided to work out twice that day really hard because "he felt so good," that he ended up getting very sick. Within 3 days, we made drastic and immediate improvements with his sore throat, severe cough, green phlegm coming out of his throat and chest with these formulas:
Poria XPT
Lonicera Complex
He was absolutely amazed at the immediate effects of the herbs. He received his second treatment yesterday specifically for pain in his forearm (extensors). He no longer had the complaints of his upper respiratory tract infection.
I needled 4 points around Stomach 36 on th leg as a Balance Method treatment. His forearm improved greatly, "at least 50%" within the first minute of needle insertion. He was just amazed (especially since none of the needles to treat the forearm were placed in the forearm. He didn't know how I did it. He exclaimed that he really didn't feel the pain that he was feeling prior to me inserting the needles.
___
Please watch the amazing 6-minute video posted by ABC News on Good Morning America. It'll be worth your time and you'll learn something amazing today.
If you have never received acupuncture from me, come in and we'll discuss your health issues. You'll be very happy with the results. Many of my recent works are discussed by my own patients at:
I am happy to talk about any of those cases with you.
My goals in practice are always to create results.
All new patients age 17 or younger will receive acupuncture for only $50 until the end of April 2009. Please mention this email.
Thanks for your time. Thanks for sharing this email with everyone you know who has children. I am a proud parent whose child discovers the powers of Chinese medicine. I hope you become one, too.
Sincerely yours,
Anna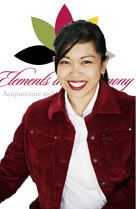 cell/text: 619 341 4341
fax your PPO insurance information: 949 388 0327
Committed to providing the most effective and relaxing
acupuncture experience in ALL of Southern California!
Please read more about my work at: