(Specials are at bottom of email.)
Hey Anna,
Just wanted to let you know I got my period 45 days from my last period. No cramping at all and bright red blood. I'm so happy I got my period.  By the way my last period took 104 days. THANK YOU.
-W.C.

(This is an email from one of my PCOS patients.  She has received a total of 59 treatments with me since March 21, 2009.  She also has been on herbs, though no formula at the moment for the PCOS.  I've had her on a different formulas for other health concerns. When I first started treating this patient, her periods would come every 75 days.  On April 9, her period came on day 71.  She was highly impressed.  Her period also just lasted 3 days, instead of  "weeks."  In Chinese medicine, women should have their periods for 3-5 days total and arrive every 28-32 days.  Her next period came on day 145.  Her period lasted 7 days.  A woman's period will go through changes within the first 6-9 months of acupuncture/Chinese herbal therapy.  This woman's period took way longer to come along, but her period is still ONE week as opposed to what would normally be "weeks."  I just received this email from my patient.  Her period came on day 45.  This has not happened to her for a very long time.  My goal is for every period to shorten until she is finally at a consistency of 28-32 days.  We are on that path!
***By the way, this patient's chief complaint is WEIGHT LOSS.***
I've noticed an increase in energy still and I have not been crazy snacking like before
Great news for me.   -R.L.
(This patient sent this email after 2 acupuncture treatments with me.)
At 39 weeks my OB wanted to induce labor, claiming she thought the baby was too large. I was able to hold her off until 39 weeks and 5 days. The OB had scheduled for me to be induced on Monday morning, so I went to see Anna on Thursday night. I left at 8:30 pm after the first treatment and contractions started at 9 pm. Our son came before 9 am the next day. All the more amazing because our 1 st child was 11 days late with a 46 hour labor. After working with Anna, Owen was 2 days early and born in less than 7 hours from having had the treatment. Thank you Anna!
Jen Morgan
JAM Baby Organics & Vintage
www.jambabys.com
949.394.3343
I slept like a baby last night which hasn't happened in quite some time. I went to bed early around 8:30 and didn't wake up until 7:00 AM which for me is a HUGE accomplishment!
Hi Anna,
It was really nice to meet you! You are an amazing person and a true healer. I told my uncle that last night, for the first time in years, I didn't have any lower back pain when I slept. I normally have a hard time finding a comfortable position to fall asleep in, as there is always a dull ache in my lower back and I notice it especially when I try to fall asleep. But last night, it felt odd, actually, not to have any pain! Thank you again!!
-Brittany A.
Please note that this patient received this type of improvement after JUST ONE treatment that day.
Dear Anna,
Thank you for thinking of me… let me give you an update on my condition.
My back is feeling better than it has in two years!
I still have a ways to go but sometimes I actually have moments of being almost pain free. It's been amazing how much better I feel. I truly believe it is because of you!
As you know I have been to doctors, chiropractors and physical therapists for the whole year before I came to you and only got temporary relief at best. Since my 16 treatments with you I am continuing to get better even though I have not been able to see you more.
I am able to work out at the gym, (which I could not do before I came to see you) and working out is imperative for the health of my back, so that has been extremely helpful. My ankle and elbow are both doing great! I have not started playing golf yet but I have been able to swing a club! Again, I believe it is because of you I am able to do all of this. Somehow you have opened the channel or 'Qi' to the start of my recovery. Hopefully I will continue to get better and better with time, if not, I will definitely return to see you. I will not forget you, thank you so much. I wish you all the best and huge success in your business and new location. If anyone deserves it, you do.
A.S. (sent 3/19/09)
?
January 23, 2009
In April of 2006, at the age of 25, I was fortunate enough to meet Anna Dolopo. A dear friend, who had never been to her, saw her card at Dr. Whelan's office and suggested I go and see if acupuncture could help with my neck pain. I must tell you that I was not necessarily a believer in acupuncture. After much deliberation I figured, why not? It could only help.
The Issue
One night, four years earlier, I was fighting a head cold and decided to sleep with pillows propped under my neck to keep my nasal passage somewhat clear. The next morning I awoke with a pain in my neck like no other. I was unable to sit for more than a few minutes without crying out in pain. At times my pinkie and ring finger on my left hand often became tingly or numb. I went to a physical therapist for months. He did a number of different exercises which seemed to lessen the pain, although it never went away. Finally, I had and MRI that revealed I had a slipped disc between my C-5 and C-6 vertebrae in my neck. Eventually I bought a Saunders Home Traction Unit so that I could put my neck in traction everyday…this helped to manage the pain and eventually I could sit for long periods of time.
The Solution
Skip forward to April 2006. I explained all of my neck history to Anna who basically said, "Come see me 3 times a week and I will hopefully be able to get rid of your neck pain." Like many non-believers, I thought she was nuts! I was compliant but not expecting anything. I saw Anna 3 times a week for a couple of months, slowly dwindling down to a couple times a week and then once a week for a total of about a year. It only took a week or two for my neck pain to reduce by at least half. While I was seeing Anna regularly, very rarely did I ever feel neck pain. As of today I no longer use the traction unit and see her on occasion for a "tune up". I am now a firm believer in acupuncture and will tell anyone who will listen that Anna is a great healer and we are all lucky to have her services.
- Samantha Klassen

When I learned I was to have abdominal hernia surgery I talked with Anna about treating it with acupuncture. She said she could help ease the recovery time by treating it both in advance and afterwards. Anna started treating me about two months before the surgery. In recovery I awoke very easily and was able to walk, unassisted, to the restroom and never had any feeling of nausea. I was written a prescription for paid medication but DID NOT NEED ANY. Anna has treated me a few times so far afterwards and I feel fine, other than that I cannot do any heavy lifting, per the doctors orders.
Jasmin Putnam
?
I started seeing Anna about two months ago after being diagnosed with an autoimmune disease known as Guillian Barre. I was diagnosed with this disease that made me feel like I was much older than the 18 years that I am. It started with extremely sharp pains that went from my lower back and shot down into my leg, after that my feet went completely numb and I lost my reflexes in them, the left side of my face became completely paralyzed, and my fingers were constantly tingling. I was told that all of these symptoms would take about a year or longer to completely heal. After seeing multiple doctors and finding out there was nothing that western medicines could do for me, I started seeing Anna two to three times a week. By about the second week of treatment the pain in my lower back and leg was completely gone and about six weeks into my treatments the numbness of my feet and tingling in my hands was 90-95% improved. The paralysis in my face was what I wanted to focus on the most after the pain was gone. Now after seeing Anna for about two months my face has improved about 95%.
Seeing so much improvement, through Anna's help, in such a short time really showed me that acupuncture works. Even my neurologist was surprised at how quickly I was healing. After the first couple weeks of treatment I was already feeling a lot better and the progress that was gave me so much more encouragement to keep going to my treatments. I am so grateful, everyday, for everything that Anna has done for me and that she was placed in my life at this critical time. I have so much more energy and I am still continuing to see improvements with one treatment a week. Almost 100% improvement in two months is more than I could have ever asked for!
Anna, thank you for everything that you have done for me.
Elizabeth Kerr
?
My wrist is unbelievably better (I don't know how you do it!)…I haven't worn my wrist guard all week and even the doctor couldn't fix it. While it's not yet as flexible as it was, it is definitely 90% better, which is a huge feat considering how painful any movement was prior to last week's visit with you. And I'm able to write/type at work without any soreness — very important when you're a communication professional. I think it's safe to say that we'll reach that 100% this week.
D.B.
?Anna has helped to heal my neck problems in less than a year that I have struggled with for over 5 years.  I went to multiple doctors, physical therapists, chiropractors, and massage therapists, but it was Anna who eventually helped to heal my pain. I recommend Anna to anyone who struggles with any type of physical pain.  She not only achieves results, but also becomes a very trustworthy and reliable friend.
Piper Medcalf
I started seeing Anna in the beginning of summer for an enlarged lymph node. What I didn't know was that she was going to help me with so many other things in my body. I had minor digestion problems my whole life.
After I ate, I would always have some discomfort which I just considered a normal part of digestion. Now after I eat, I feel good with no pain. I now realize that this is normal. Acupuncture has helped me to identify when I feel full which allows me to stop eating before I over eat. As a result I have started to lose weight without even trying. She has also helped me tremendously with overstressing and worrying. I feel so much more in control of my thoughts and emotions and have much more happiness
and a sense of peace in my life. I still see Anna regularly for my
lymph node and I continue to enjoy the benefits of her acupuncture for any new ailments that come up along the way. For instance, she has helped me recover from a cold much quicker than I would have in the past. She has also helped me to get over a knee injury I recently experienced doing yoga. I recommend acupuncture to friends and strangers all the time. It has improved the quality of my life tremendously.
Stefanie
?
A simple misstep leads to devastating consequences.
In September 2005, I took a simple misstep causing a serious sprained ankle, with 7 different tears to tendons, ligaments, and muscles. After 6 months of casts and physical rehabilitation, my ankle was healed; however, I experienced excruciating pain daily. My orthopedic surgeon recommended against surgery as my ankle would actually end up worse. For the next year and a half I lived in pain. This is when I met Anna and decided to try something I never thought I would do – acupuncture.
In May 2007 I visited Anna for the first time and explained the ongoing pain I still experienced each and every day. During the first treatment, the pain level dropped by 50% during the treatment. Words can truly not explain the relief I felt at that moment. Anna explained the protocol for the best results and the wonderful words of this process was not to MANAGE but GRADUATE from the pain. For the first month, I went 3 times a week watching in amazement as the pain decreased with each visit. I then switched to 2 times a week for the next month and now see Anna about once a week. The pain not only totally disappeared during the treatment but for the last several weeks I experienced no ankle pain at all!

Thank you Anna, for all your help from a simple misstep.
Claire
Dear Anna,
It's hard to believe that I came to you only 4 months ago with excruciating pain in my neck, shoulder, and left arm from a pinched nerve and I am now almost back to 100%. I was in such extreme pain, I was willing to try anything beyond the western medical techniques that had already been attempted by my doctors. Following your guidance of being committed to the process and having treatments 3 times a week for the first 2 1/2 months, then going to 1 time a week, and now once every 1 1/2 weeks has proven to be the right choice. And an added benefit is that during this time, through acupuncture, I was able to discontinue HRT with very little side effect!
I believe that my situation was a challenge for both of us; me as the patient and possibly you as a practitioner. I want to tell you that you amaze me with your tenacity and intuition on always knowing the right approach and treatment to provide with every one of my visits. There were times I almost gave up and if it were not for you, I very well may have.
Thank you for not giving up on me and seeing me through what has been a most difficult time in my life. I don't know how to thank you other than to say you have a true gift and I am so very appreciative of your patience with me and honored to be one of your clients.
My Best,
LRM
?
Dear Anna,
Last July I was performing a task that I have done 12 times a week for six years, when I had a freak injury to my shoulder. There was not a shooting pain, just a twinge but I then had a very limited range of motion – and pain as I moved it.
That was on a Wednesday and I had an annual golf outing planned the following Thursday and Friday. Needless to say I was concerned about even being able to go.
I saw you just three times: Thursday; Saturday; and the following Tuesday. Each time the pain lessened and the range of motion improved! Due to your exceptional work I was able to attend the outing and played 99 holes of golf in two days with zero pain! I have remained relatively pain free since.
You have continued treating me for other chronic, albeit less severe, pains in my knee and elbow with the same success for which I appreciate very much.
Continued success in your business and please feel free to have anyone contact me personally if they would like to talk.
Sincerely,
Tim Putnam, Putnam Enterprises
?
Anna is my first and only acupuncturist.
As an Engineer I realized the needle size Anna is working with and was shocked at how it altered my pain. I had heard from my daughter Nicole about the work Anna is doing and felt in the right place to try something to relieve the pain in my elbows.
I was surprised at how much pressure can be applied at specified points of the the body utilizing such a small instrument. I had taken my daughter Nicole, as a young child, to an acupuncturist to reverse the affects of TMJ and now she has returned the favor.
The pain in one elbow was gone 100% and the other which was worse the pain had subsided over 75%.
Thank You Anna!
Tim Westhoff, IMAGINE
Hi Anna,
Baby Owen was breach at 37 week. My doctors were talking about cephalic external version and c-section. About 6 hours after one session with you, he flipped to head down! Thank you so much, Anna!
Thank you for the last treatment.   I felt like i was walking on water.  I was so calm and collective throughout the day. Your treatment helped my golf game. I ended up playing and shot really well that day. So, I tip my hat to you, Dr. Dolopo.
Enjoy your day.   See you soon.  I am much appreciative for everything you have done for me.
Greg
We are  proud to announce our Five Star Reviews on Yelp!
Thanks so much for your dedication and patronage since 1999!
___
Special rates with this email:
THESE RATES ARE ONLY FOR TODAY & TOMORROW 10/14 & 10/15
3 friends during Community treatment time: $100 (basically, 1 person comes in for FREE!)
Add herbs in stock for $20/bottle (save 50%) with this offer only.
At least one of the patients has to NOT be a new patient.
Purchase any bottle of herbs in stock for only $30 (save $10)
(You don't have to receive a treatment in order to receive this rate.)
NEW PATIENT: $90 (private session; save $10)
This offer expires on OCTOBER 15, 2009, THURSDAY.
You must mention this email to receive the discount.
Thanks for forwarding to your friends!
I sent out letters to certain individuals for Patient Appreciation Week.
If you are interested, please reply.
Parent and child special for 10/14 and 10/15:
Come during COMMUNITY TIME: $60 total
-Child must be UNDER age 18.
-This offer is only for parents who are CURRENT patients.
-If both parent and child are new patients, the total is $120.
-If child is age 18 or over, the total for both parent and child is $75 ($130 if both patients are new).
If you both want to come in and not share the room with anyone else, the total (any age for child) = $90 ($150 if both patients are new).
___
Please visit us at:
We're happy to share our new FB site with the world!
Hi Anna,

I wanted to share the great news.  I bought new clothes this past weekend that are 4 sizes smaller then the clothes I wore the first time I saw you!  The last time I wore this size clothing was over 15 years ago!   My food cravings for sweets are totally gone and junk food, cookies, ice cream and the downfall of the world Chocolate does not interest me at all!!!!  Thank you again for helping me become healthy and beautiful.

Anne
___
Some of our testimonials that can be found at:
What can 9 treatments in 19 days do for a person?
(This patient has received over 50 treatments now. We are also helping her lose weight, as losing weight is her chief complaint.)



I have a female patient in her late 30s.  These are the improvements that she has made so far with her acupuncture treatments:
vaginal discharge has decreased dramatically; her discharge no longer has a foul odor and went from a yellowish color to whitish color during her time with me; this yellow discharge has been a problem for her for the past year
vaginal itchiness has significantly decreased; also has been with her for about a year
no more dryness/itchiness in eyes
she went from having constipation to having loose stool with a very foul odor in the beginning of her treatments; today she claims during her 9th treatment that she finally has had a regular bowel movement with no foul odor; no loose stool; no constipation
her external hemorrhoids have decreased in size by, at least, 30%; her MD informed her that the only way this would reduce in size or completely get rid of it would be with surgery
an overgrowth on the side of her face has decreased significantly; one can no longer tell that she had an issue there; her MD informed her that the only way that they could decrease the size would be through surgery
this patient has PCOS; her periods would normally come every 75 days; she has received her first period under my care and it came on day 71 = 4 days shorter (already)
instead of lasting 10 days long, her period only lasted 3 days
her quarter-size clots in her period decreased in size by, at least, 90%
the number of clots in her period decreased by, at least, 90%
her energy increased dramatically just within the first 2-3 treatments
prior to her period, she would normally get really irritable (she actually used the term "bitchy"); that didn't happen this time-I am sure her husband was very happy about this improvement
prior to her period, she would normally have severe bloating; that didn't happen this time
on the first day of her period, her menstrual blood is usually brown; this time her period was all bright red; only on the 4th day was there a tinge of brown; the period actually only lasted 3 days
she was so surprised that her period just "came and went," as normally she would have severe premenstrual changes and her period would last so long that she'd have to count how many days she had her period in order to figure out when she would finally stop
THIS IS GREAT PROGNOSIS FOR THIS PATIENT, CONSIDERING THAT SHE HAS ONLY COME IN 9 TIMES IN THE PAST 19 DAYS
___
In great health and happiness,
Anna N. Dolopo, M.T.O.M., L.Ac.
The Acupuncture Alchemist
I am committed to providing the most
EFFECTIVE
RELAXING
AFFORDABLE
acupuncture experience in ALL of Southern California!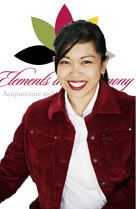 cell/text: 619 341 4341
Committed to providing the most effective and relaxing
acupuncture experience in ALL of Southern California!
23151 Verdugo Dr., Ste. 109
Laguna Hills, CA 92653
Please read more about my work at: