Hello Practice Members, Friends and Family!
My practice has been very busy treating all kinds of health concerns, but I wanted to send you a quick email of some of the testimonials that have yet to be posted.  I will post these on my blog page for now and I plan on going in depth on more cases in the YouTube videos.  In the meanwhile, here are some of the testimonials.  There are more that I need to sort through and send to you.  THANK YOU to everyone for sending me your opinions, results and intentions.
THANK YOU especially to everyone who is committed to our work together with the goals of helping you GRADUATE or significantly improve from your pain and suffering.
My life's mission is to
…end the pain and suffering of the world one person at a time through the power of EFFECTIVE, RELAXING & AFFORDABLE acupuncture therapy.
To be more specific, I intend to use the powers of Dr. Tan's Balance Method Acupuncture to help the word live with greater freedom and personal empowerment, so that we can all GET ON WITH OUR LIVES!
I am creating a new page under "Testimonials" called "Difficult Cases."  Some of you will be contacted by me to ask how our work together has made YOUR DIFFICULT CASE much easier to live with.  Not everyone GRADUATES from pain.  Not everyone sees immediate results.  A couple of the testimonials below explain how slowly therapy can be for some individuals with very difficult cases.  With 11 years of experience as a licensed acupuncturist, I believe the most difficult thing for a person to accept about herself is that her case is a difficult case.  We all want to be a quick fix. Unfortunately, this is not the case.  If you have ever worked with me, I make it very apparent within the first 10-15 treatments if I think your case is difficult one to treat and I do my best to make a CLEAR, CONCISE and REALISTIC treatment plan, so that you can plan whether or not you want to truly pursue committed therapy under my guidance.
I take my patients' time and resources seriously.    You can thank my entrepreneur parents for that.  Please read the testimonials below to have a better understanding of what "Difficult Cases" can entail when I am working on helping people GRADUATE from pain and suffering.
Thank you so much for your time!

Hi Anna
When I came in to see you I was getting cramping.  After the treatment,
the cramps increased. I started tracking my contractions at 9 pm when
they got really strong. I labored all night, trying to rest and sleep
in between contractions. They were 10 minutes to 20 minutes apart for a long
time. I started to get worried at 9 am when they were still 10 minutes
apart, but they did increase in strength. I then had to get out of the
house to clear my head.  When I got back home, my contractions went to 4 minutes
apart in an hour. We went to the hospital and I had Lincoln in 1 hour
45 minutes. The end was quick! I gave birth at 1:15 pm on March 6. I
didn't use an epidural. I was very happy with the birth experience. It
was 16 hours of labor but it didn't feel long at all. My first birth
experience lasted days , so maybe that is why too
and Chelle was
amazing! Couldn't have done it without her.
Thank you so much for getting the labor going! It is hard to know, but
I think the treatment sped up the length of the labor too.
Thank you!
Shana
---

Hello Anna,


It has been a long time!  My pain is 99.7% gone.   The 0.03% is on some days I feel the muscle little stiff on my left side but it does not pain, or create any issues…. But this goes away easily too.

I am trying to get myself on more regular exercise schedule – still struggling because I am lazy.  But otherwise, I am good.  I should come for tune-up sometime and to say hello J But other than that, I am good.

Also, I am now coaching my daughter soccer team again for second season and need to build stamina.  But this is good stress buster as I am enjoying it tremendously.

Cheers,


Amit V. Khajanchi



I owed you this update on my health for a while. I know you get a lot of people saying how quick they recover from pain or illness due to acupuncture and herbs; I thought you might like to know the other side of the story, for me this battle has been long and slow.
I was not cured in 1 treatment, my pain did not decrease by 50% on the first visit and I often wondered why you did not give up on me during this time. I would see others in the treatment room state how their pain dropped 30% and remained dropped until the next visit or they had only seen you 3 times and were already feeling better even by small amounts of 5 or 10%.  How I longed to be like the people on the "You tube" videos whose pain dropped by 5% each visit or 10 treatments and the pain was 90% gone!
I was not one of those people, after 5 treatments, my pain had not decreased at all—not by 1% and I was worried that you would say there is nothing you can do and release me as a patient. I kept wondering how come others respond so quickly and why I hadn't seen any improvement.  I was watching ladies get pregnant who thought they never would, the sick get healthy and others people's pain drop to nothing and there I was stuck full of needles and not progressing.    It was probably not until treatment 7 that I noticed any improvement in my pain and even that was minimal.  Over the next few treatments the pain would drop a few percent, but return after each appointment.  I expected a big speech from you stating that you have done everything and I need to try something different.   It did not come because as you kept explaining (and the words finally sunk into my head) that therapy  takes time.  Not everyone sees results overnight and some conditions such as mine take a lot longer to heal then others. While the condition was acute in nature, my body reacted as if I experienced the pain for years.    I saw you regularly for several months with your loving and caring attitude towards my health.  I just wanted to end the pain.  You wanted to fix the issue which would end the pain.  At some point probably after a good 15 or 20 treatments the pain finally starting to reduce and I finally got what you said.  10-20 treatments are just the beginning not the end.  The pain was dropping slowly and not at all steadily, but it was improving.  I know the longer I keep at the acupuncture, the more the pain will disappear totally over time.  It took a good 4 to 5 months to end the pain I experienced on a daily basis but I do live pain free now.

Thank you for keeping up the good fight to get me pain free.
….CC

---
Immune system

Pneumonia

Sinus infection

Respiratory issues

Difficult cases

Hi Anna,
We quickly judge failure or success based on limited time frames. We want results not just now but yesterday; if something takes time and energy; we often don't put forth the effort.
I came to you with a severe case of pneumonia and a sinus infection which 10 days of antibiotics should have cured; this turned into 20 days on antibiotics and no improvement. I thought alternative medicine would be the great quick fix. You explained up front this is not a quick fix but therapy and we would be healing my body of the root causes of the diseases.  I thought great; fix me up quick and I will be on my way with my life, no longer down and dealing with side effects of antibiotics; as you can read—I did not want to hear what you said about therapy, I wanted the quick fix like everyone else.  In my mind I thought 1 or 2 treatments and boom all better.  This was what I heard  (well not sure from where), but everyone knows this stuff just works really fast and takes very little time and  I would get all better without any real effort on my part.  Then it reality hit me…….
The first treatment for the pneumonia and sinus infection showed no improvement at all; I was still coughing, congested, wheezing and feeling really ill. You said to give it a few more treatments and also discussed herbs with me; I agreed to take the herbs as well.  From treatments 2 to about 8; there was almost zero improvement, in fact I seemed to be getting worse and went back to the doctor who only said; more antibiotics but since I had already been on them for 20 days, I did not think another round would help much.
You treated me again with more needles and more herbs determined to get me healthy. The truth started sinking in that my health would take time no matter how I tackled it. I could give up the herbs and acupuncture, go back to the doctor and get more antibiotics which gave a ton of side effects and probably at this rate take another month or two at least to improve my health or I can keep coming for acupuncture.  I experienced no side effects from the herbs or acupuncture and enjoyed the nap I was getting each time I came in and decided to try it a while longer.  Then about the 10th treatment I noticed I was a little better, it was getting easier to breathe again and my congestion had lessened.  This was an extremely slow, uphill battle the entire way with very slow and incremental improvements.  I think by the time we did treatment 20 I was starting to feel a little more human.   It was probably close to 30 treatments before I was over the pneumonia and sinus infection.   Then I was on herbs for several more months and saw you in maintenance mode for a while to keep my immune system strong.
Thank you for your diligence in keeping me healthy and encouraging me on the long journey!
A. H.

___
My name is Ben and I have been to Anna for 10 sessions. I have been suffering from back pain,  shoulder pain and my leg falls asleep. This is all due to several accidents: car, motor cycle , and skiing.  Needless to say,  I have not taken very good care of my self, but after Anna helped turn my sister's baby I thought I would give her a try. Since I have been going for treatment, I have no pain in my shoulder,  back pain has been decreased by 90%, my leg problem has also decreased by 75%. In addition, I was smoking a pack a day or more now I'm down to 2 a day.   …………..Thanks Anna
Some of our testimonials that can be found at:
In great health and happiness,
Anna N. Dolopo, L.Ac.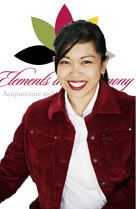 cell/text: 619 341 4341
Providing EXCELLENCE in the field of Chinese medicine.
Effective
Relaxing
Affordable
23151 Verdugo Dr., Ste. 109
Laguna Hills, CA 92653
Please read more about my work at: