Happy Tuesday!
This is a special reminder that with the Powers of Chinese Medicine, we can keep our immune systems strong.  Please take a moment to read some of the testimonials below.  They can also be found on my website and blog.
When you are ready to keep your immune strong OR if you are experiencing symptoms of a cold or flu, please keep my services in mind.  It is always my pleasure to see patients' health improve dramatically with the powers of Dr. Tan's Balance Method Acupuncture and the RIGHT herbal formula(s) prescribed when the person is diagnosed correctly in the practice of Chinese medicine.
Enjoy!
(Please read our Yelp reviews at: http://moveyourqi.com/yelpreviews.html.  You can also review my work on Yelp directly. Thanks!)
Anna,
Thank you so much for making the extra effort to see me yesterday. It did make a big difference with the herbs and acupuncture. I started to feel human again last night around 5/6pm. Elijah asked me why I didn't go to the doctor and I told I did go to my doctor. Her name is Anna, she's Gily's Mom. So thanks again, doc.
- G.M.
Hi Anna,
Thanks for having me over yesterday for herbs, tea and delicious lemon cake!!! You're so much more than an acupuncturist because of times like these…inviting me (and my dog) in for an herbal consultation, a nice cup of mint tea and just plain good ol' conversation. And when I find myself sick (which we both know happens quite often because of my terrible immune system and too many crazy nights out), you are there for me in every way. Of course there's the usual acupuncture treatment that kicks in within a day, then there's the herbs that cover what acupuncture couldn't…but beyond that, there's your support. I certainly don't know many other health professionals that would take such good care of me when I'm ill, but then again, I wouldn't just consider you a health professional. I would consider you a friend. You're fabulous!
Deb
Hi Anna,
You have treated me a great deal for stress; so I did some research and realized the only reason I am healthy at all today and not blown over by every cold or flu that walks in the door of my office is because of acupuncture.  So I wrote this up for you.
From Wikipedia.org
In 1967, psychiatrists Thomas Holmes and Richard Rahe examined the medical records of over 5,000 medical patients as a way to determine whether stressful events might cause illnesses. Patients were asked to tally a list of 43 life events based on a relative score. A positive 0.1 correlation was found between their life events and their illnesses.
Their results were published as the Social Readjustment Rating Scale (SRRS),[1] known more commonly as the Holmes and Rahe Stress Scale. Subsequent validation has supported the links between stress and illness.[2]
Stress levels
Score of 300+: At risk of illness.
Score of 150-299+: Risk of illness is moderate (reduced by 30% from the above risk).
Score 150-: Only have a slight risk of illness.
If you have ever taken a Homes and Rhea stress scale; you would know that some rating over 300 is considered very dangerous. Well life has a way of sometimes coming up on you and your stress can hit levels that high–as mine have in the past year.
In the past year I experienced the following:
Purchasing my first home
Paying my first mortgage
Experience turbulent market conditions as coworkers lost their jobs
Variation of my job responsibilities (see above item for reason)
Watched several industries crash causing a global economic downturn
Enjoyed a short vacation (before buying the home)
Spent time with family and friends enjoying Christmas (yes even Christmas can be stressful)
Change in the health of family members
Improved my eating and sleeping habits (which is a good thing!)
and well the list could go on…but the point is that according to all the experts I was a stress mess waiting for the slightest cold or flu bug to fly in and make me dreadfully ill.
Instead of succumbing to the stress of personal, family and work, Anna treated me for the stress and today, as I am still amazed at everything that happened in the last 6 months–let alone the past year, I am sleeping well and eating healthy.  If it was not for acupuncture I know this would not be the case.  Before Anna started treating me for stress, I would catch every bug (cold or flu) that seemed to creep into the office.  I would spend each winter fighting infection after infection because stress had weakened my immune system.  The opposite is now occurring.  I am healthy!
Thank you for strengthening my immune system and lowering my stress.
- CAS
Anna has the best herbs to treat bronchitis. I took her herbal prescription and I noticed right away that my coughing is 100% better from 1 month of coughing from bronchitis. I got sick again and took the pills and got better faster than normal the second time. I am a firm believer in her treatments! I have Grave's Disease and my immunity is at stake here. When I get the common cold/flu, it's 10 times worse for me. My endocrinologist didn't give me much to go on, so I have to treat myself. Thank you, An, for guiding me on how to feel better.
- Aurora Marie Zhivago
Anna,
With constant travel, hours in front of a computer and the stress of an executive lifestyle my body began to give up trying to compensate for the lack of sleep and attention needed. With your treatment and attention to what my body needed I saw a surge in energy, my immune system rebounded and I am now able to tackle the never ending list in front of me with the confidence that my body will not let me down. I look forward to my next treatment.
- Pete Deutschman, The Buddy Group
As a very busy owner and operator of a commercial printing and graphic design company here in San Diego, Anna has helped me with my stress, sore muscles and immune system. Because of Chinese medicine, I am always on top of my game at work!
It would be my pleasure to talk with anyone about Anna's skills as a practitioner and her treatments with me over the years. Thanks so much!
- Thomas Ackerman, Spirit Graphics and Printing Inc.
Hello Anna,
Noelle's sore throat was gone after 1 day of using the Astragulas and Sambucol. Kasen is about dried up now, I think. I've been noticing for the last 2 days that it looks like his runny nose is gone. No cough.
Julia still has a runny nose and a little cough, however, all of the secretions are very thin and clear. That leads me to believe that it is drying up.
For myself, the herb that you gave me, Sing Ju X (something like that). I've been taking 2 pills every morning and this time out of the hospital was my quickest intestinal recovery. It usually takes me 6-7 days to have a BM with all the codine and the anesthesia that they give me for the surgery. They gave me morphine too. This time it was only 4 days.
Well, I did just have a major surgery which has healed great. If you have any other suggestions in mind for pills to take for those symptoms I can come get some more herbs from you unless you have other dietary suggestions.
Take care.
- Brittany Doan
I started seeing Anna in the beginning of summer for an enlarged lymph node. What I didn't know was that she was going to help me with so many other things in my body. I had minor digestion problems my whole life.
After I ate, I would always have some discomfort which I just considered a normal part of digestion. Now after I eat, I feel good with no pain. I now realize that this is normal. Acupuncture has helped me to identify when I feel full which allows me to stop eating before I over eat. As a result I have started to lose weight without even trying. She has also helped me tremendously with overstressing and worrying. I feel so much more in control of my thoughts and emotions and have much more happiness
and a sense of peace in my life. I still see Anna regularly for my
lymph node and I continue to enjoy the benefits of her acupuncture for any new ailments that come up along the way. For instance, she has helped me recover from a cold much quicker than I would have in the past. She has also helped me to get over a knee injury I recently experienced doing yoga. I recommend acupuncture to friends and strangers all the time. It has improved the quality of my life tremendously.
Stefanie
By the afternoon on May 26 (when I came in to see you for a cold), I was almost completely better. I felt 90% better (than I had that morning) and the only symptom remaining was a cough that is just now going away. We went out to celebrate my birthday that night and I was so happy because I had no signs of being sick at all!
Thank you so much!
Deborah Bell
I was referred to Anna in 1997 for hypertension and stress. With her treatment and prescribed herbs my blood pressure and stress level dropped significantly and have felt better. I still see Anna today for any symptoms related to stress, aches or pains due to physical activity or to treat the common cold and I always feel better after her treatments than I do taking western medications.
- Justin Lussier
I am a 57-year old man who was diagnosed with mild emphysema approximately 5 years ago. I am an ex-smoker of 15 years, but suffered from the effects of smoking.
Here is my description of what happened in January: At the beginning of January, my daughter and granddaughter came back from Denver, Colorado. Both were sick and I visited them since they had been gone for approximately two weeks. I immediately felt like I had caught something and it went straight to my lungs/chest. I did my usual taking of mega-dosages of vitamin C, juices and echinacea. I felt like I was starting to get better by the end of the week, but then I took a turn for the worse. I went to the ER and they said I had pneumonia without taking a chest x-ray. I had seen Anna before and started seeing her immediately. When I first started seeing her, I was coughing my brains out to the point that my chest hurt just breathing. Within about 2 weeks, Anna's treatments helped calm my cough along with taking her prescription of Loquat cough herbal medication. I continued treatment for approximately two months before I was well enough to stop treatments.
- Tony
Anna,
Hope you are having a good day. I loved my last visit with you. I felt almost euphoric when I left your office. It was the best acupuncture treatment that I have ever had! My left ear began to drain about two hours after meeting with you. I went to my MD appointment that afternoon and was given an antibiotic, steroids and a nasal spray. I've had one sinus headache in the front of my head and one on the back of my head, but that is it.
- T.L.
Good evening Anna,
I experienced sciatic nerve pain recently and wanted to share how acupuncture helped end the pain quickly!
"The sciatic nerve is a large nerve that starts in the lower back and runs through the buttock and down the lower limb. It is the longest and widest single nerve in the body.  The sciatic supplies nearly the whole of the skin of the leg, the muscles of the back of the thigh, and those of the leg and foot."  I experienced unimaginable pain from my back down my entire left leg ending in my ankle that I sprained several years ago.   To my shock and dismay sitting or laying down increased the level of pain while standing appeared barely tolerable.
Doctors rate pain on a scale of 1 to 10 with 1 a minor pain and 10 the worst pain someone ever experienced.  I compared my sprained ankle with the 7 tears to tendons, ligaments and muscles as a 3 on the pain scale  (I have extremely high pain tolerance), to the pain in my back and leg which rated an 8.
I visited the chiropractor who adjusted my neck as I was out of alignment and said a massage, rest and time would eventually heal the pain.  I asked how long eventually was and received the standard answer of everyone is different and while I should start feeling better soon, the pain could take up to a couple of months to fully disappear.  This was the general consensus I received from doctors, family, friends and co-workers.  Everyone said sciatic nerve pain heals slowly and I would live in a pain for at least a couple of months.
Remembering how quickly my ankle pain disappeared after my first visit, I contacted Anna and saw her that day.  After Anna placed several needles in my right arm (not in my back or left leg) the pain level started dropping.   After the treatment my overall pain dropped by 5%.  While to many this seems minuscule to someone with sciatic nerve pain this means a great deal.  I then saw Anna almost daily, 7 visits in 10 days.  Each time the pain dropped from 10 to 50% while on the table and stayed reduced for several hours after I left.  Each treatment reduced the overall pain bit by bit.  My family, friends and co-workers were shocked at how quickly I was recovering since the first few days I could barely walk and could not sit for any length of time.  The pain literally shot down my back to may ankle increasing dramatically while sitting.  During meetings at work, I would stand for large parts since the pain decreased while stand ing (though the looks from some of my co-workers was quite comical, I could not laugh because that also increased the pain).  After 10 visits in 2 weeks my pain was over 90% decreased!!!!!    The last 10% disappeared over the next couple of weeks as I saw Anna less often.  I know that if I kept visiting Anna daily for treatments, the last 10% would disappear even faster.
Instead of the 2 months I was quoted by doctors, family and friends, my sciatic nerve pain was 90% gone in 2 weeks.
Thank you Anna for your help!
Claire
___
Special rates with mention of this email.  Expires 10/30/09
Acupuncture during Community time with a bottle of herbs in stock for $80
2 bottles of herbs in stock $70
2 people during Community time scheduled together $90
New patients $90 (save $10)
First-time acupuncture patients: private session $90
YOU MUST MENTION THIS EMAIL TO RECEIVE THE DISCOUNTS.
___
In loving memory of my Kato who died 2 months ago today.  I miss him terribly. If I have been a little bit "off" and "distant" in healing center, I truly apologize.  This is one of the most difficult times of my life.  Thank you for your patience with me, as I heal from the loss of my best friend.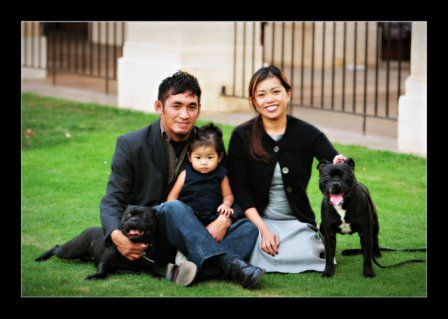 Sincerely yours,
Anna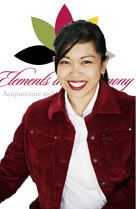 cell/text: 619 341 4341
Committed to providing the most effective and relaxing
acupuncture experience in ALL of Southern California!
23151 Verdugo Dr., Ste. 109
Laguna Hills, CA 92653
Please read more about my work at: