Our latest letter of gratitude:
**I treated this patient once for these particular health issues.  The treatment was yesterday and the letter was received on the same day.
Hi Anna,
Today at dance, my shoulder today at dance was sooo much better!  And my ankle barely hurt, and I was able to some good aerials.
On one I did something funny and hurt my left hip flexor.  I am going to talk to my dance teachers to see if I could be moving in some way that places excess stress on my hips, but for now, my left one seriously hurts, and I am worried that I pulled it.  My right one was about 40% better today which is good.  I feel somewhat handicapped now that both of them are hurt.
Thank you–the progress with my ankle and shoulder is wonderful!
I will see you on Friday hopefully!
Please consider my services for any of your pain issues.
NEW testimonials posted on our website regarding:
Depression
Cyst
Energy
Ear/nose/throat issues
Immune system
Weight loss
Pain
NEW companies posted on our links page regarding:
Veterinarian
Supplements
Cancer
Acupuncturists
Jewelry
Thank you for visiting our website!
I am currently in the process of finding out how I can volunteer as a licensed acupuncturist at Cordelia Knott Wellness Foundation.
"The Cordelia Knott Wellness Foundation is dedicated to the support of cancer patients and committed to educating the community on the importance of a healthy mind, body and spirit."
I will let you know when this endeavor comes into fruition.  If you know of a place where they treat their patients with both western and non-western medical practices, please let me know.  June 22 marks my 10 year anniversary as a licensed acupuncturist.  I've been practicing in OC since 2003 and many of you still drive up to see me from SD and have been with me since 2003.  I am grateful to be a part or your lives every week/month/quarterly.  Thank you for helping me get to where I am today.  I loved practicing in Irvine for 3+ years, Laguna Hills for 3 years and now Lake Forest until I outgrow my current healing center.
___
Here are a few testimonials regarding my new healing center:
#1
To Whom It May Concern:
According to Merriam Webster to heal can be defined as "to restore to original purity or integrity."  Healing is what Anna does.  Anna introduced to me to the idea of the spirit leads the mind and the mind leads the body.  Her words rang so true.
My name is L.M. (patient's name withheld as this is a mass-distributed email).  I am a 21 year old mother of 2 boys.  My older son is almost 2 and my second is 8 months old.  I first came in to see Anna when I was in labor with my younger boy.  I had been laboring inconsistently for almost a week and was desperate for some relief.  After seeing Anna on Saturday afternoon my labor picked up and progressed beautifully until I gave birth to Benjamin. Anna helped me to achieve my goal of 100% natural and un-medicated labor and delivery.
The next time I came to see Anna was for my gallbladder troubles.  I was diagnosed with gallstones and was reluctant to have my gallbladder removed without trying alternative methods. Unfortunately, I had waited too long to come see Anna and my condition was beyond repair.  I had been suffering extremely severe gallstone attacks on an almost daily basis for months before I went to see her. Years of stress, anxiety and depression had led me into emotional eating which in turn had led me to having gallstones.  My gallstone attacks were so severe I was only able to sleep 2-4 hours each night.  My mood was dark and my spirit was broken.  I saw Anna a number of times before my cholecystectomy.  Only after receiving acupuncture from Anna could I somewhat relax.  Even with the all the pain she helped me to cope with the emotional distress.
I honestly believe a practitioner is not defined by his/her space and accomplishments but their ability to treat whatever physical ailments by healing people as a whole.  We cannot separate our mind, body, or soul. I have followed Anna wherever she has moved to and there never has been any location insufficient to accommodate myself and my 2 (very active) boys.  She always ensures my privacy might I need to nurse my son.  I've also received massages from Anna and I've always felt very well taken care of.  I can assure you Anna's office space is more than adequate.
I'd just like to say Anna is the most amazing healer, and as hocus pocus as that may sound, I truly believe she has been blessed with an invaluable gift.
Please feel free to contact me with any questions!
Sincerely, L.M.
#2
I have known Anna Dolopo for more than two years and have relied on her for improving a variety of health issues for me. Anna has treated me through acupuncture, massage, Chinese herbs and therapy. She is a wonderful and effective acupuncturist, as well as someone I would call my friend.
I have been treated by Anna several times since she began working in the 100-square-foot space. While I have also joined other people for semi-private sessions, I typically prefer private sessions in which I am able to enjoy my treatment in a quiet space. Anna makes use of decorative separators between the patient and her workspace, which I like because while I can rest privately, she is also close by in case I need anything.
In summary, I highly recommend Anna for acupuncture, Chinese herbal therapy and counseling. She has been an influencer of positive change in my life and in my health.
If you have any questions, please don't hesitate to contact me.
Sincerely,
D.B.
#3
Anna,
I am very happy with your new space for my private treatments.  I am very comfortable in the space and even enjoy the fact the front door can remain open so that I may listen to the birds outside.  There is plenty of room and plenty of privacy with the screens you provide while I am relaxing.
Thank you for taking such good care of me,
L.F.
#4
Hi Anna,
This is regarding your new facility and its size.
I like the area you have now.  It is actually bigger than the individual room I was in previously!  There are two things I like in addition to the larger size.  First, you are right there.  If I have any questions or need your assistance it is easy.  Before you I was not sure if you would hear me, or you may have been treating someone else.  The other thing is, it is now always quiet.  Do not have to worry about others in an adjoining room making noise.
Continued success to your business!
Sincerely,
T.P.
#5
Anna,
I want to thank you for the private message & acupuncture given at your new Lake Forest office on Aspen. I really like how the Chinese enclosures you use makes it feel very personal.
I totally recommend this atmosphere. Now you need at least three more rooms just like it.
T.W.
#6
I have been a patient of Anna's for over two years now. When I first went to her I had several issues physically and emotionally. Since starting treatments with her I have been able to free myself from needing to take prescription medications for depression, my hiatal hernia and needing monthly treatments from my chiropractor for neck and back pain. She has helped bring me over all balance.
She recently moved into a new space that she has made quite comfortable and peaceful.  Even though it's is limited in size it hasn't compromised her ability to give fantastic treatments. I am so grateful that found her. I recommend her highly to all my family and friends.
-W.D.
#7
I have been getting private treatments from Anna at both the new and previous location. Let me assure you that there is plenty of space in the new clinic for a private treatment. I feel completely secure and comfortable at the Lake Forest clinic. As a matter of fact, I prefer it to the Laguna Hills location because it is always very quiet and has no distractions from other people sharing the clinic space.
Regards,
A.D.
#8Anna Dolopo has been my acupuncturist since 2007.  From the very first meeting, I was sure I had found the right person to treatment my health concerns.  Anna is extremely pleasant, but more important she goes out of her way to ensure her patients are comfortable and well taken care of.  My visits are always in a private room and the size is typical of a doctors exam room.  In fact her rooms are similar in size to those at my primary physician's office and I am completely comfortable. The size is very suitable for treating patients with the upmost privacy.  I highly recommend her.
Sincerely,
T.B.
I am excited to share that I will start carrying herbs distributed by a very honorable company whose proprietor is a wonderful colleague of mine.  He is from Colorado and studied at University of Colorado (I forgot which city) and then went on to study at my Alma Mater, Pacific College of Oriental Medicine on the San Diego campus.
He is a highly respected Chinese herbalist in our profession, having excelled on campus as a student and he went on to study, research and write further on our medicine in Taiwan with some of the authors we have studied from.  Eric Brand is fluent in Mandarin and has translated some of the most difficult Chinese medical texts during his stay in Taiwan and Beijing.
As most of you know, I carry Evergreen because they stand by their products and I am very proud of their rigorous quality control on all aspects of their manufacturing from farming to post-distribution.  I send all of my patients their quality control and I share the information for almost all modern formulas.  My patients have experienced the difference between the lesser quality herbal formulas out there in comparison to Evergreen's products.
I am proud to share Legendary Herbs as a second supplier in my practice.  I haven't placed my first order yet, but I am excited to see the results from this company.  Eric is all about top quality and he has met the top distributor of the highest quality of ginseng in China.  For those of you who do not know, ginseng is sold from ONE supplier down to the rest of the suppliers to the world.  Purchasing ginseng is an art.  You have to know that you are buying authentic ginseng because there are suppliers out there who sell fake ginseng for top dollar.  I know Eric's work ethics and I am confident that his company will provide my patients the needs and expectations we all have from our Chinese medicinals.
As with any reputable Chinese herbal company, their products are ONLY sold to licensed acupuncturists.  I do not sell herbs to random people on the street.  People call me weekly just asking for herbs.  To dispense herbs responsibly, I must meet with patients and do a complete health evaluation to understand what is the most appropriate formula for the patient to receive.  Herbs are very concentrated foods.  Just because the herbs are natural does not mean that all herbs are safe to consume.  The right herbal formula MUST be prescribed to individuals.  Keep that in mind when you're taking an herbal formula.  What might be right for someone else's health issues may be completely wrong for your health issues, even though your symptoms might seem similar.
Thanks for your consideration in taking Legendary Herbs!
Special rates for June 11-14, 2009 ONLY:
New patients $90 (save $10) – this is a private session
2 new patients $150 (save $50) – this is a semi-private session for NEW patients only
3 patients (new and/or continuing) $150 (new patients save $50/person) – this is a community treatment
Mention that you've read the Yelp reviews and purchase a bottle of herbs in stock (listed below) for $30/bottle (save $10)
All of these discounts are only given with mention of this email
Thanks for reading!
BACK SUPPORT CHRONIC
Back Support HD – herniated disc
Balance Cold – infertility; menstrual disorders 2
Balance Heat – menopause 2
Calm – PMS, stress, mood swings, anxiety, nervousness, restlessness 2
Calm Jr – ADD/ADHD; childhood convulsions 2
Calm ZZZ – chronic and constant stress
Cordyceps 3 – stimulates immune system to fight against cancer,  CFS
C/R Support – side effects from chemo/radiation
Dermatrol PS – psoriasis
Dissolve KS – kidney stones
Equilibrium – diabetes mellitus (CAPSULE AND POWDER)
Flex CD – arthritis; fibromyalgia
Flex Heat – arthritis; gout; rheumatic disorders
Gastrodia Complex – hypertension
Gentiana Complex – hypertension; genital herpes
Gentle Lax Deficient – constipation; colon cleanser 3
GI Care – ulcers; acid reflux 3
GI Care II – traveler's diarrhea; gastroenteritis 3
GI Care UC – ulcerative colitis
GI Harmony – irritable bowel syndrome
Herbal ENT – ear, nose, throat issues 2
Herbal ABX – antibiotics
Herbal DRX – edema; feeling of heaviness in body
Herbalite – obesity with excessive appetite
Kidney Tonic Yang – lack of libido; low energy; "internal cold"
Knee & Ankle Acute – pain
Knee & Ankle Chronic – pain
Lonicera Complex – sore throat 2
Magnolia Clear Sinus – sinusitis; allergies
Menotrol – infertility; PCOS; amenorrhea
Migatrol – migraine, cluster, tension headaches
Neuroplus – Alzheimer's; Parkinson's; MS; post-stroke
Notoginseng 9 – internal/external bleeding
P-Statin – benign prostatic hypertrophy (BPH)
Peuraria Clear Sinus – sinusitis with yellow nasal discharge
Resolve Lower – fibroids; benign tumors in uterus/ovaries
RESPITROL CF – cough
Respitrol Cold – common cold/flu
Schisandra ZZZ – anemia; insomnia
Shine – depression
Symmetry – Bell's Palsy; facial paralysis; TMJ
Thyro-Forte – hypothyroidism
Traumanex – sports injuries, broken bones/fractures, post-surgical recovery, pain
Vital Essence – male infertility; sexual disorders
EFFECTIVE ACUPUNCTURE USING
THE DR. TAN'S BALANCE METHOD
-practiced by Anna Dolopo, Master of Traditional Oriental Medicine,
Case 1 of THE COST OF DOING ACUPUNCTURE:
Reducing the size of a knee cyst
38-year old woman presented with cyst on right knee.  The location of this golf ball-sized cyst was located just inferior to the patella on the medial aspect of the knee.  It hurt to kneel and it hurt to the touch.  The medical doctors recommended surgery.  The patient's primary medical doctor measured the size of the cyst.  Surgery was scheduled within a few weeks of medical examination by her physician.
The patient presented this medical issue to me on treatment #21 for therapy of weight loss.  Treatment #21 was the first time that I had added therapy for her knee cyst.  This acupuncture  treatment was administered on May 11, 2009.  On May 13 (treatment #22), the patient claimed that it seemed like the cyst had gotten smaller.  It was still painful.  On treatment #27, which was May 30, the cyst was almost 100% gone.  The patient is canceling her appointment for surgery to remove the cyst.
It should also be noted that a factial cyst had also diminished during the beginning of her acupuncture therapy.  The doctors also claimed that only surgery would remove the facial cyst.
Many other health issues have improved.  For privacy of this patient's case, these other details are being withheld in this case study.
From treatment #21-27, the cost of acupuncture was $350.  She paid $50/session.  It took 6 treatments (treatments #21-26) to reduce the size of the cyst by almost 100% from a "golf-ball size" measured by her M.D.  Her M.D. stated that only surgery would remove the cyst.  We have also taken away a cyst somewhere else on her body in less time.  It was on treatment #27 that she stated her improvement.
This patient's overall payments since March 2009 has been $1,550, which includes purchase of some Chinese herbs.
For a comprehensive overview of this patient's therapy, you are welcome to call me.  If you I know that you have never seen this patient at my clinic, I will share with you details of further improvement in this patient's health.
On a side note, this patient has lost weight also.  Very good prognosis since March 2009.  It is May 30, 2009 at the time  of this publication.
___
Effective practice of Chinese medicine for the treatment of DEPRESSION
Rarely do I express how effective my method of practice is for the treatment of severe depression.  Here is a testimonial that I am grateful to have received today and share with you.  By request, this patient's name is being kept anonymous.
Please, if you know of anyone dealing with depression, consider recommending that person to my practice.  Is it just the acupuncture and the Chinese herbs that helped this person and everyone else I have treated successfully for depression?  Perhaps.  However, I do believe that my experiences in life help me in my healing center, especially when it comes to the balancing of emotions.
You can read about my life and how I have evolved emotionally on my website.  Some of this information can be found under the elements and you can always call me to discuss how Chinese medicine helped transform my life profoundly.
Thank you for all of the testimonials over the past two years.  I wish I had a website beginning in 1999 when I became a professional of Chinese medicine.  Please keep the testimonials coming.  There are many yet to be posted up.  I try my best to keep up with them and that's a good thing.
The purpose of all of the testimonials is to help US grow OUR effective practice of Chinese medicine.  I am nothing without YOU, MY READERS AND MY PRACTICE MEMBERS.  I took a leap of faith a long time ago that God would send me as many people as He sees fit and you just can't imagine just how blessed I am to have YOU believe in me.  Thanks to all of you for sticking with me from San Diego, numerous clinics, my home for a few months and now in Lake Forest until we're in a larger healing center.  To all of you who look past my downsized office and decide to still pay for my services, I AM SO GRATEFUL that you drive from everywhere around Southern California to see me.  With every person I help, I am one step closer to achieving bigger goals.  I continue to pray for wisdom, so that I can continue to help people like the one I've helped in the testimonial below.  God bless you all.
___
June 2009
Depression is not something normally shared and I rarely discuss my personal battle with family or friends.  I agreed to write this hopefully assisting others who battle serious depression.
I suffered from depressive episodes for a large part of my life.  The depression cycle would last from a few weeks to as long as 6 months.   As a teenager I thought about the two options for my life; the first choice ends the pain of living, the second choice revolved around learning to live with the pain.  Each time I thought about the choice, I chose life because I knew depression would not last forever.  As an adult, I learned to recognize the first symptoms of a depressive cycle working toward not letting the depression overtake my life.
In college, my longest episode lasted over 8 months and at the time I seriously thought about different types of therapy.  In the end, I choose not to pursue therapeutic treatment for two very simple reasons.  The first option I understood required taking medications masking the symptoms.  I wanted a cure for my depression not a pill I would take daily to change my mood.  The other standard therapy of talking to a therapist never interested me because I never understood how talking about my problems would actually cure my depression.  Sure we all need to vent and share feelings but telling some stranger my personal issues and expecting some "magic" words of wisdom making the depression end seemed unrealistic.  Additionally, all my depressive episodes end after a time and I knew waiting long enough this current episode would also end.  After college, I experienced various bouts of depression, all eventually ending.
In the summer of 2008,  I experienced another bout of depression and knowing about acupuncture decided to seek treatment focused on healing not masking symptoms.  Anna treated me specifically for depression, however I did not tell the entire history of my depression, just that I battled depression in the past.   This probably made treating my depression more difficult for Anna.  Anna treated me twice a week for several weeks; each treatment asking how I was improving.  The improvement was not overnight, there was no miraculous waking up the next day and feeling totally normal.  The process was slow but steady progress with each treatment I noticed a very gradual improvement.  After several treatments, Anna discussed the option of taking Chinese herbs assisting the acupuncture treatments.   At the end of the treatment, Anna did not insist I take the herbs instead handed me a package of information about the herbs.  I read the information and noted what the herbs did; how the herbs worked and decided to take the herbs in addition to the acupuncture.  The main point of the herbs was not to mask the symptoms but assist in healing my body from the causes of depression.  During the next treatment, I agreed taking the herbs on top of the acupuncture and in about 2 months, the depression ended.  While this might seem like a long time to some, what I know about my battle with depression and the seriousness of the battle, 2 months was comparably short.
I have not experienced any depressive symptoms in the past 10 months.  Acupuncture healed the underlying causes of my depression and not only masking my symptoms.  I highly recommend Anna as an acupuncturist and acupuncture as a therapy option for depression.
___
We are  proud to announce our Reviews on Yelp!

You can find us in Lake Forest.  Please write your review on our services and help us grow exponentially!
Thanks so much for your dedication and patronage since 1999!
(I have 14 reviews.  Yelp's algorithm randomly removes the reviews from time to time for security reasons.  Please post up your reviews!)
___
Some of our testimonials that can be found at:
In great health and happiness,
Anna N. Dolopo, M.T.O.M., L.Ac.
The Acupuncture Alchemist
I am committed to providing the most
EFFECTIVE
RELAXING
AFFORDABLE
acupuncture experience in ALL of Southern California!
Services are provided in Lake Forest, all of OC, SD and LA.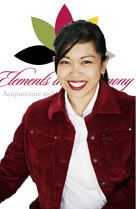 cell/text: 619 341 4341
fax your PPO insurance information: 949 388 0327
Committed to providing the most effective and relaxing
acupuncture experience in ALL of Southern California!
Lau Kune Do Temple of Martial Arts
Sifu Mathew Carver
22762 Aspan St., Ste. 207
Lake Forest, CA 92630
Please read more about my work at: