Thanks for the day off yesterday!
Here's our latest letter of gratitude:
Anna, Thank you so much for making the extra effort to see me yesterday. It did make a big difference with the herbs and acu. I started to feel human again last nite around 5/6pm. Elijah asked me why I didn't go to the doctor and I told I did go to my doctor. Her name is Anna, she's Gily's Mom. So thanks again, doc.
-G.M.
When you feel like you're battling a fever, flu or feeling not well enough to enjoy the day, consider doing acupuncture and taking a Chinese herbal right for your condition.  The above letter is an example of what a highly effective acupuncture treatment can do for the immune system.  I treated this patient for  symptoms of "feeling hot," even after having burned off a fever two nights prior when he had a 102 temperature.  No respiratory symptoms.  Just not feeling good due to overexertion at work and not getting enough sleep.  My prescriptions:  Gardenia Complex and after the heat is gone, Immune +.  This patient only received ONE treatment for this particular ailment.
I have two patients at my clinic today who presented with these improvements from our last treatment a month ago:
1.  The male patient informed me that his thumb, neck and shoulder pain decreased by 100% for 2 weeks. (That was his first treatment with me.)

2.  The female patient informed me that her cramps prior to her period decreased by 80%.  There were no clots.  The color was only bright red, no brown/dark red.  (She has only received 2 treatments so far.)
Special rate just for May 22, Friday: Add a bottle of herbs in stock for $30 (save $10) when patients come in for an acupuncture treatment.

Pre-order 5 bottles of herbs and save $50.  Pre-payment is required.

You must mention this email.  This special does not continue after May 22.
We are  proud to announce our 14 Five Star Reviews on Yelp!

You can find us in Lake Forest.  Please write your review on our services and help us grow exponentially!
Thanks so much for your dedication and patronage since 1999!
___
TCM take on swine flu – It's pathogenic heat, cold and damp
___
Qi Gong: Free this Saturday 2:30
$10 to non-patients
You must RSVP.
Sifu Mathew is allowing me to use the temple of martial arts to teach this class.
Thanks so much for spreading the word!
___
Please visit us at:
We're happy to share our new FB site with the world!
Hi Anna,

I wanted to share the great news.  I brought new clothes this past weekend that are 4 sizes smaller then the clothes I wore the first time I saw you!  The last time I wore this size clothing was over 15 years ago!   My food cravings for sweets are totally gone and junk food, cookies, ice cream and the downfall of the world Chocolate does not interest me at all!!!!  Thank you again for helping me become healthy and beautiful.

Anne
___
Some people ask me that they'd like to do the same thing:
Well, Anne has been a committed patient since 2007.  I have also been a committed patient since 1994.  I lost a lot of weight.  I lost about 4 sizes and it still takes work to keep the figure right.  Can you lose weight?  Yes, you can!  With commitment to YOURSELF, YES, YOU CAN.

I was eating lunch today at Uoko Japanese restaurant.  The news was on and there was a lady being interviewed on how she helps people lose weight.  She doesn't believe that it has much to do with the food intake.  I agree with her.  She explained that we have to face our fears.  We have to be honest with our emotional eating.  We have to confront our stresses in life.  I agree with all that she said.  In my practice, the ones who have the ability to state: Anna has helped me lose about 4+ sizes means that these people are honest with themselves about their lifestyles, their emotions, their ability or lack of ability to eat slowly and really realize what their relationship with food is.
I battled with food addictions for many years.  I know the dangers of a sweet tooth and craving salty foods consistently.  I am a self-employed acupuncturist, which means that I have to pull in my own income day after day.  Not only do I have to make a living, I have to follow my own advice day after day.  What's that advice?  Take it easy, breathe, eat slowly, look at your food, acknowledge your food, chew your food, relax, drink room temperature water, eat often, laugh much, take a break in between bites, etc., etc.
Is it possible for us to relax and not stress out?  Is it possible to not eat at all when we are stressed out?  Am I a stress eater?  I can easily be a stress eater.  How much comfort do we find in food?  Many of us find a great deal of comfort in food.  When we've had a long day at work, people in front of our faces requiring the impossible from us, stress at home, stress to get somewhere on time, it's easy for us to just say, "I'm going to eat my stress away."
Is it possible for us to relax?  Is it possible for us to breathe and take it easy?  Is it possible for us to just be?
If you would like to lose weight, look at your life.
When you are ready for me to take a look at your life and HELP YOU, I've been waiting for you to call me.
All I ask is for your commitment and your time.  You did not just gain the weight overnight, so please don't expect me to help you lose the weight overnight.  Be realistic.  Set goals.  I'll be with you all the way, just like I've been with Anne since 2007 (focusing on weight loss since 2008) and I'm still there for her every step of the way.  Trust me, she looks really GOOD in her new clothes.  Was it worth it for her to commit herself to my assistance?  Well, re-read the testimonial and make your own judgment.  I believe she does find it very worthwhile to make time with me.
Qi Gong this Saturday for free to patients; $10 to non-patients

If you are a current patient or if you have ever been a patient, you can take a free Qi Gong/Stretching class with me this Saturday at 2:30 p.m. in my Lake Forest healing center.
Sifu Mathew Carver is allowing me to use the Lau Kune Do Temple of Martial Arts to teach Qi Gong.
If you are not a patient, you can take the class for $10.  The class runs from 2:30-3:30.  Please show up on time because I will end on time.
All patients receive as many free classes as the number of treatments that they have paid for.  This is my gift and my commitment to Orange County.
I hold these free classes whenever my patients need me to teach it.  There is no excuse for patients to NOT be able to take an exercise class because I teach it for free at YOUR convenience.
Whenever you want to MOVE YOUR QI,
WHERE ELSE WILL YOU FIND A FREE EXERCISE CLASS THAT WORKS AROUND YOUR SCHEDULE?!
___
Special rate for May 24, Sunday ONLY:
Acupuncture with a 45-minute massage $100
With this service only: add a bottle of herbs in stock for $20
New patients: $90 (save $10)
Community Room treatment + a bottle of herbs in stock $80 (save $10)
This week's special until May 24, 2009, Sunday:
Any continuing patient may bring in up to 3 NEW patients for a total of $200 for Community treatments.
This means that each new patient saves $50.
I am committed to providing high quality, effective,
safe and relaxing acupuncture treatments in my Community Room.
I am grateful to everyone for participating in the Community Room treatments.
Typically, all new patients must pay the regular initial rate of $100, which is a Private treatment.
This special offer allows NEW patients to become practice members for only $50 when $200 is paid for up to 4 people.
The breakdown is:
1.  Current patient $50
2.  New patient $50
3.  New patient $50
4.  New patient $50
All in the  Community Room.
Payment of $200 is due by May 24 and all 4 patients MUST receive their treatments within 14 days of the payment date.
There are no refunds and there is no extension of the 2 week treatment period for all 4 patients.  Any of the participating patients may receive any of the unused treatments within the 2 week treatment period.  There are no further exceptions.

If all 4 patients (the current and the 3 new patients) can come in on the same day by May 24, there is an additional $25 discount!
This special expires this Sunday, May 24.
The payment for $200 must be made by May 24 and the treatments must be received within 14 business days.
The rate is only $175 for all 4 patients (current and 3 new patients) when treatments are done on the same day by May 24.  There is no extension of this date.

Treatments are scheduled only during my regular office hours.  Please contact me at 949.305.1703 to book this very special offer for a current patient and up to 3 new patients as soon as possible.
Thanks so much for your consideration!
Please inquire about our 3 Special Rates Programs.
___
Some of our testimonials that can be found at:
What can 9 treatments in 19 days do for a person?
(This patient has received over 20 treatments now.  We are also helping her lose weight, as losing weight is her chief complaint.)



I have a female patient in her late 30s.  These are the improvements that she has made so far with her acupuncture treatments:
vaginal discharge has decreased dramatically; her discharge no longer has a foul odor and went from a yellowish color to whitish color during her time with me; this yellow discharge has been a problem for her for the past year
vaginal itchiness has significantly decreased; also has been with her for about a year
no more dryness/itchiness in eyes
she went from having constipation to having loose stool with a very foul odor in the beginning of her treatments; today she claims during her 9th treatment that she finally has had a regular bowel movement with no foul odor; no loose stool; no constipation
her external hemorrhoids have decreased in size by, at least, 30%; her MD informed her that the only way this would reduce in size or completely get rid of it would be with surgery
an overgrowth on the side of her face has decreased significantly; one can no longer tell that she had an issue there; her MD informed her that the only way that they could decrease the size would be through surgery
this patient has PCOS; her periods would normally come every 75 days; she has received her first period under my care and it came on day 71 = 4 days shorter (already)
instead of lasting 10 days long, her period only lasted 3 days
her quarter-size clots in her period decreased in size by, at least, 90%
the number of clots in her period decreased by, at least, 90%
her energy increased dramatically just within the first 2-3 treatments
prior to her period, she would normally get really irritable (she actually used the term "bitchy"); that didn't happen this time-I am sure her husband was very happy about this improvement
prior to her period, she would normally have severe bloating; that didn't happen this time
on the first day of her period, her menstrual blood is usually brown; this time her period was all bright red; only on the 4th day was there a tinge of brown; the period actually only lasted 3 days
she was so surprised that her period just "came and went," as normally she would have severe premenstrual changes and her period would last so long that she'd have to count how many days she had her period in order to figure out when she would finally stop
THIS IS GREAT PROGNOSIS FOR THIS PATIENT, CONSIDERING THAT SHE HAS ONLY COME IN 9 TIMES IN THE PAST 19 DAYS
In great health and happiness,
Anna N. Dolopo, M.T.O.M., L.Ac.
The Acupuncture Alchemist
I am committed to providing the most
EFFECTIVE
RELAXING
AFFORDABLE
acupuncture experience in ALL of Southern California!
Services are provided in Lake Forest, all of OC, SD and LA.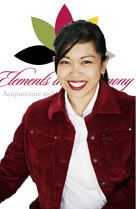 cell/text: 619 341 4341
fax your PPO insurance information: 949 388 0327
Committed to providing the most effective and relaxing
acupuncture experience in ALL of Southern California!
Lau Kune Do Temple of Martial Arts
Sifu Mathew Carver
22762 Aspan St., Ste. 207
Lake Forest, CA 92630
Please read more about my work at: