Congratulation to the parents of River Mathews!
My midwife gave birth: VBAC.
I am so proud of you, Lindsey.  You helped me deliver Angilynn in 2004.
treated you almost every week throughout your entire pregnancy.
To see you deliver your second child vaginally and completely drug-free after your first delivery was a C-section is exactly what you not only hoped for,
but what your entire profession advocates.
As stated by Medscape:
Neonatal Outcomes May Be Better With Vaginal Birth After Cesarean Delivery
Teach yourself the fact that women can deliver babies NATURALLY.
WE WERE DESIGNED TO DO SO!
___
I am moving locations by August 31, 2009.  I would like to extend my greatest gratitude to all of my patients who have gone with me in OC from Irvine in 2003 to Laguna Hills in 2006, Lake Forest since March until I finally have my own place.  Sifu Mathew and I would love for someone to take over the room that I am currently renting.  ….Here's to 10 years of practice.  I finally get my OWN location!

___
***The cost of doing acupuncture is BELOW this personal note.  Please scroll down to see the case study on acupuncture for effective treatment of sciatic pain.***
Patients and colleagues often ask how I get patients in through the doors.  Of course, I market to YOU and to people who do not  know me.  I'm currently in a very modest location, but when a person comes in, gets 75-80% improvement in the lower back (that would be someone like you A.K. from the first treatment), people don't care that my room for the past few months has been smaller than my office that I shared with Dr. Whelan. Getting the patients through the doors ONCE is one thing.  Getting patients to come back until they GRADUATE FROM PAIN is another.

Linda M. wrote this awhile back:
To Whom It May Concern:
According to Merriam Webster to heal can be defined as "to restore to original purity or integrity."  Healing is what Anna does.  Anna introduced to me to the idea of the SPIRIT LEADS THE MIND, THE MIND LEADS THE BODY.  Her words rang so true.
My name is Linda M.  I am a 21 year old mother of 2 boys.  My older son is almost 2 and my second is 8 months old.  I first came in to see Anna when I was in labor with my younger boy.  I had been laboring inconsistently for almost a week and was desperate for some relief.  After seeing Anna on Saturday afternoon my labor picked up and progressed beautifully until I gave birth to Benjamin.  Anna helped me to achieve my goal of 100% natural and un-medicated labor and delivery.
The next time I came to see Anna was for my gallbladder troubles.  I was diagnosed with gallstones and was reluctant to have my gallbladder removed without trying alternative methods.  Unfortunately, I had waited too long to come see Anna and my condition was beyond repair.  I had been suffering extremely severe gallstone attacks on an almost daily basis for months before I went to see her.  Years of stress, anxiety and depression had led me into emotional eating, which in turn had led me to having gallstones.  My gallstone attacks were so severe I was only able to sleep 2-4 hours each night.  My mood was dark and my spirit was broken.  I saw Anna a number of times before my cholecystectomy.  Only after receiving acupuncture from Anna could I somewhat relax.  Even with the all the pain, she helped me to cope with the emotional distress.
I honestly believe a practitioner is not defined by his/her space and accomplishments, but their ability to treat whatever physical ailments by healing people as a whole.  We cannot separate our mind, body, or soul.  I have followed Anna wherever she has moved to and there never has been any location insufficient to accommodate myself and my 2 (very active) boys.  She always ensures my privacy might I need to nurse my son.  I've also received massages from Anna and I've always felt very well taken care of.  I can assure you Anna's office space is more than adequate.
I'd just like to say Anna is the most amazing healer and, as hocus pocus as that may sound, I truly believe she has been blessed with an invaluable gift.
Please feel free to contact me with any questions!

Sincerely, Linda M.
THIS IS HOW I ACHIEVE SUCCESS IN MY ACUPUNCTURE PRACTICE
ACHIEVE immediate results ASAP (within 1-10 treatments)

EDUCATE the patient that ACUPUNCTURE IS THERAPY

INFORM the patient that I consider the beginning phase of therapy to be the first 10-20 treatments and that I hope to see SUBSTANTIAL RESULTS within first first few, if not 6-10 treatments

HELP THE PATIENT UNDERSTAND that with commitment to therapy, SIGNIFICANT results are bound to happen
I HELP PEOPLE GRADUATE FROM PAIN – I prove this 90% of the time!

My track record speaks for itself, but every new patient needs proof in the pudding.  Still, I work hard to prove what Dr. Tan's Balance Method can do.  If I can't obtain the results (a minimum of 30% improvement, if not already at 75-100% improvement) that I want within the first 6-10 treatments within 2-4 weeks, then I leave it up to the patient to give me up to 20 treatments within the next several weeks to make a positive impact on their health.

ACUPUNCTURE is THERAPY.  I recommend for all of my patients to read through the testimonials, especially under "PAIN" that explains HOW MY PRACTICE OF ACUPUNCTURE WORKS.

Please read the testimonial below.  I explain HOW MUCH IT COST for Claire to completely GRADUATE from excruciating sciatic pain.
The Cost of Doing Acupuncture: Part 3
Sciatic Pain

Good evening Anna,
I experienced sciatic nerve pain recently and wanted to share how acupuncture helped end the pain quickly!
"The sciatic nerve is a large nerve that starts in the lower back and runs through the buttock and down the lower limb. It is the longest and widest single nerve in the body.  The sciatic supplies nearly the whole of the skin of the leg, the muscles of the back of the thigh, and those of the leg and foot."  I experienced unimaginable pain from my back down my entire left leg ending in my ankle that I sprained several years ago.   To my shock and dismay sitting or laying down increased the level of pain while standing appeared barely tolerable.
Doctors rate pain on a scale of 1 to 10 with 1 a minor pain and 10 the worst pain someone ever experienced.  I compared my sprained ankle with the 7 tears to tendons, ligaments and muscles as a 3 on the pain scale  (I have extremely high pain tolerance), to the pain in my back and leg which rated an 8.
I visited the chiropractor who adjusted my neck as I was out of alignment and said a massage, rest and time would eventually heal the pain.  I asked how long eventually was and received the standard answer of everyone is different and while I should start feeling better soon, the pain could take up to a couple of months to fully disappear.  This was the general consensus I received from doctors, family, friends and co-workers.  Everyone said sciatic nerve pain heals slowly and I would live in a pain for at least a couple of months.
Remembering how quickly my ankle pain disappeared after my first visit, I contacted Anna and saw her that day.  After Anna placed several needles in my right arm (not in my back or left leg) the pain level started dropping.   After the treatment my overall pain dropped by 5%.  While to many this seems minuscule to someone with sciatic nerve pain this means a great deal.  I then saw Anna almost daily, 7 visits in 10 days.  Each time the pain dropped from 10 to 50% while on the table and stayed reduced for several hours after I left.  Each treatment reduced the overall pain bit by bit.  My family, friends and co-workers were shocked at how quickly I was recovering since the first few days I could barely walk and could not sit for any length of time.  The pain literally shot down my back to may ankle increasing dramatically while sitting.  During meetings at work, I would stand for large parts since the pain decreased while standing (though the looks from some of my co-workers was quite comical, I could not laugh because that also increased the pain).  After 10 visits in 2 weeks my pain was over 90% decreased!!!!!    The last 10% disappeared over the next couple of weeks as I saw Anna less often.  I know that if I kept visiting Anna daily for treatments, the last 10% would disappear even faster.
Instead of the 2 months I was quoted by doctors, family and friends, my sciatic nerve pain was 90% gone in 2 weeks.
Thank you Anna for your help!
Claire
___
Claire spent  $1200 from May 11-June 20 for 22 treatments.  Within 6 weeks, Claire completely GRADUATED from her pain.  I practiced exclusively DR. TAN'S BALANCE METHOD ACUPUNCTURE on Claire.  None of the needles went to the back (the area of the pain).
Since June 20, Claire has not had any pain.
Claire has been with me for 216 treatments since we started a few years ago. For privacy reasons, I can only tell you that she has GRADUATED from many health complaints.  She has stuck with me because she sees RESULTS.  From when her surgeons recommended against surgery for her ankle and we helped her GRADUATE from ankle pain (after 1.5+ years of severe pain), she has given my skills the benefit of the doubt that I can take her health to a higher level than we could imagine two years ago.  Let me tell you, Claire has spent a lot on her health, but that's because she puts her health as a priority.  In so many ways, she is NOT the same person.
So many people come to me wanting to live more healthily, live with no more pain, fit in better clothes, live with better choices.  Well, Claire is someone who shows me how much her health means to her.  I know the commitment it takes. I myself invested in my own health consistently from 1994-1996 when I lost 48 pounds (4-5 sizes).  I now have regular bowel movements (when I used to have just one every 4 days).  My periods last 3-4 days when they used to last 1 day, if that.  I suffered from severe depression and my path was NOT clear.  My life is not that way anymore.  I am a healthy individual.  Stuff happens, but I bounce back pretty quickly.  Therapy is still in my life.  It's really important to put ourselves first.
As I shared with you all awhile back, these are my family's priorities:
God
My GREAT health
My family
My education/purpose in life
My friends
When our priorities are clear, everything in life falls into place.  Put your needs before everyone else's and that includes your health.  When something does NOT jive right, do what it takes to get healthy again.  Let it be known what does not fit well with you emotionally.  Do what you have to do to make yourself healthy.  If you can't love yourself 100%, no one else can.  SELF-ESTEEM is confidence that you BUILD WITHIN.
I know that wherever my next office lands with my first LEASE (no longer subletting!), I'll be exactly where God wills me to be.  I can be effective on the beach in Kona, on the couch in my living room, by the pool, in a clinical setting or in a homeless shelter.  The reason why my patients choose me is because I PROVIDE RESULTS.
Focus on your goals. When you do that, YOU ACHIEVE RESULTS. When you achieve results, you will be rewarded in ways beyond your wildest imaginations.
Cheers to OUR GREAT HEALTH!
We are  proud to announce our  Five Star Reviews on Yelp!

You can find us in Lake Forest.  Please write your review on our services and help us grow exponentially!.
Thanks so much for your dedication and patronage since 1999!
___
Anna, Thank you so much for making the extra effort to see me yesterday. It did make a big difference with the herbs and acu. I started to feel human again last nite around 5/6pm. Elijah asked me why I didn't go to the doctor and I told I did go to my doctor. Her name is Anna, she's Gily's Mom. So thanks again, doc.

-Matt Greene, L.Ac. (licensed acupuncturist) located in San Clemente
Hi Anna,

I wanted to share the great news.  I bought new clothes this past weekend that are 4 sizes smaller then the clothes I wore the first time I saw you!  The last time I wore this size clothing was over 15 years ago!   My food cravings for sweets are totally gone and junk food, cookies, ice cream and the downfall of the world Chocolate does not interest me at all!!!!  Thank you again for helping me become healthy and beautiful.

Anne
___
Some people ask me that they'd like to do the same thing:
I have also been a committed patient since 1994.  I lost a lot of weight.  I lost about 4 sizes and it still takes work to keep the figure right.  Can you lose weight?  Yes, you can!  With commitment to YOURSELF, YES, YOU CAN.

___

Please read about my work on my website, blog, Yelp and LinkedIn!
In great health and happiness,
Anna N. Dolopo, M.T.O.M., L.Ac.
The Acupuncture Alchemist
I am committed to providing the most
EFFECTIVE
RELAXING
AFFORDABLE
acupuncture experience in ALL of Southern California!
Services are provided in Lake Forest, all of OC, SD and LA.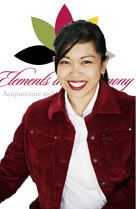 cell/text: 619 341 4341
fax your PPO insurance information: 949 388 0327
Committed to providing the most effective and relaxing
acupuncture experience in ALL of Southern California!
Lau Kune Do Temple of Martial Arts
Sifu Mathew Carver
22762 Aspan St., Ste. 207
Lake Forest, CA 92630
Please read more about my work at: