Hi Anna,
I wanted to share the great news. I brought new clothes this past weekend that are 4 sizes smaller then the clothes I wore the first time I saw you! The last time I wore this size clothing was over 15 years ago! My food cravings for sweets are totally gone and junk food, cookies, ice cream and the downfall of the world Chocolate does not interest me at all!!!! Thank you again for helping me become healthy and beautiful.
Anne
___
I am taking this Wednesday off.
It will be one year that my glorious
Staffordshire Bullterrier,
"Jeannie,"
Ch. Shogun's Dark Phoenix,
made her transition.
Thank you for your understanding.

___
This week's special until May 24, 2009, Sunday:
Any continuing patient may bring in up to 3 NEW patients for a total of $200 for Community treatments.
This means that each new patient saves $50.
I am committed to providing high quality, effective,
safe and relaxing acupuncture treatments in my Community Room.
I am grateful to everyone for participating in the Community Room treatments.
Typically, all new patients must pay the regular initial rate of $100, which is a Private treatment.
This special offer allows NEW patients to become practice members for only $50 when $200 is paid for up to 4 people.
The breakdown is:
1. Current patient $50
2. New patient $50
3. New patient $50
4. New patient $50
All in the Community Room.
Payment of $200 is due by May 24 and all 4 patients MUST receive their treatments within 14 days of the payment date.
There are no refunds and there is no extension of the 2 week treatment period for all 4 patients. Any of the participating patients may receive any of the unused treatments within the 2 week treatment period. There are no further exceptions.

If all 4 patients (the current and the 3 new patients) can come in on the same day by May 24, there is an additional $25 discount!
This special expires this Sunday, May 24.
The payment for $200 must be made by May 24 and the treatments must be received within 14 business days.
The rate is only $175 for all 4 patients (current and 3 new patients) when treatments are done on the same day by May 24. There is no extension of this date.

Treatments are scheduled only during my regular office hours. Please contact me at 949.305.1703 to book this very special offer for a current patient and up to 3 new patients as soon as possible.
Thanks so much for your consideration!
Please inquire about our 3 Special Rates Programs.
___
We are proud to announce our 11 Five Star Reviews on Yelp!

You can find us in Lake Forest. Please write your review on our services and help us grow exponentially!
Thanks so much for your dedication and patronage since 1999!
___
Some of our testimonials that can be found at:
I have a female patient in her late 30s. These are the improvements that she has made so far with her acupuncture treatments:
vaginal discharge has decreased dramatically; her discharge no longer has a foul odor and went from a yellowish color to whitish color during her time with me; this yellow discharge has been a problem for her for the past year
vaginal itchiness has significantly decreased; also has been with her for about a year
no more dryness/itchiness in eyes
she went from having constipation to having loose stool with a very foul odor in the beginning of her treatments; today she claims during her 9th treatment that she finally has had a regular bowel movement with no foul odor; no loose stool; no constipation
her external hemorrhoids have decreased in size by, at least, 30%; her MD informed her that the only way this would reduce in size or completely get rid of it would be with surgery
an overgrowth on the side of her face has decreased significantly; one can no longer tell that she had an issue there; her MD informed her that the only way that they could decrease the size would be through surgery
this patient has PCOS; her periods would normally come every 75 days; she has received her first period under my care and it came on day 71 = 4 days shorter (already)
instead of lasting 10 days long, her period only lasted 3 days
her quarter-size clots in her period decreased in size by, at least, 90%
the number of clots in her period decreased by, at least, 90%
her energy increased dramatically just within the first 2-3 treatments
prior to her period, she would normally get really irritable (she actually used the term "bitchy"); that didn't happen this time-I am sure her husband was very happy about this improvement
prior to her period, she would normally have severe bloating; that didn't happen this time
on the first day of her period, her menstrual blood is usually brown; this time her period was all bright red; only on the 4th day was there a tinge of brown; the period actually only lasted 3 days
she was so surprised that her period just "came and went," as normally she would have severe premenstrual changes and her period would last so long that she'd have to count how many days she had her period in order to figure out when she would finally stop
THIS IS GREAT PROGNOSIS FOR THIS PATIENT, CONSIDERING THAT SHE HAS ONLY COME IN 9 TIMES IN THE PAST 19 DAYS
This is what can really happen within 3 weeks when patients do acupuncture 3 times a week.
After her 10th treatment, I'll be giving this patient (as with all patients) another "5-phase Questionnaire." After she completes it, I'll be able to see what other areas of her health has improved and how else I can improve my treatments in order to see the most effectiveness during her therapy in my practice.
This patient has been on V-Statin for only the past two days. This is specifically for:
vaginitis
PID -pelvic inflammatory disease
genito-urinary infections in women and men
genital itching; soreness or pain in women and men
yellow or green vaginal discharge with offensive odor and cottage cheese consistency
infection or eczema of the scrotum, male genital infection with itching
pyelonephritis, UTI, cystitis with dysuria, turbid, yellow urine
infertility in women due tot he inflammation and infection of the pelvis (ovaries, uterus, fallopian tubes)
****antibiotic effect to treat infection; anti-inflammatory effects to reduce inflammation and swelling; analgesic action to relieve pain; diuretic action to promote normal urination
This patient has also been on a small dosage of Immune+ to keep her healthy because her baby and husband have been sick.
___
Parenting Practices and ADHD
http://www.medscape.com/viewarticle/590065?src=mp&spon=17&uac=105210EK
In great health and happiness,
Anna N. Dolopo, M.T.O.M., L.Ac.
The Acupuncture Alchemist
I am committed to providing the most
EFFECTIVE
RELAXING
AFFORDABLE
acupuncture experience in ALL of Southern California!
Services are provided in Lake Forest, all of OC, SD and LA.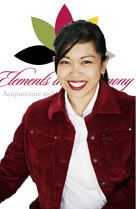 cell/text: 619 341 4341
fax your PPO insurance information: 949 388 0327
Committed to providing the most effective and relaxing
acupuncture experience in ALL of Southern California!
Lau Kune Do Temple of Martial Arts
Sifu Mathew Carver
22762 Aspan St., Ste. 207
Lake Forest, CA 92630
Please read more about my work at: