Sciatic pain:
(Please try to view 11/24.  It might be too early if you're getting this on 11/23.)
Dear Anna,
My Endocrinologist has been treating me for PCOS for the past year. During last week's visit, he said my blood work showed huge improvement. My androgen hormones have decreased. I was originally put on two medications. About three months ago I stopped taking one of the medications. During last week's visit, I was told to cut the dosage of the second medication in half. He felt that there was no need for me to see him again. He advised me to have my family doctor redo blood work in about six months. He believes the hormones will continue to balance and become normal. At that point I can stop taking all medications. His comment to me was "whatever you have been doing, keep it up". I have been receiving acupuncture treatments from Elements in Harmony for about five months. Thank you Anna!
Specials for this Wednesday and Friday only, 11/25 and 11/27 only with mention of this email.  These rates are good only for these days.  Thank you.

Acupuncture for current patient and one immediate family member during Community time: $80

Acupuncture with a bottle of herbs in stock (capsule form only, not powder): $80 (current patients only)

Current patient can bring 2 new patients for a total of $150

Buy 10 Community acupuncture treatments for only $450 (save $50)

The Cost of Doing Acupuncture: Part 2
Case study #1:
There is a professional dancer in my practice who has been seeing me since February 25, 2009.  She is 18 years old in great health, except for the pain incurred by dancing.  Including today's treatment, she has come to see me a for a total of 13 treatments.
This case study is to review her treatments since June 9, 2009.  She had experienced significant improvement in her achilles' issues that she didn't have to come in for treatment since April 23.  Since June 9, she has since seen me for her hip flexor pain for a total of 5 treatments.  She pays $60 for treatments.  This is what we have accomplished with her $300 investment on her health, which includes her treatment today.
During her first treatment on June 9, the patient informed me of the pain in her hip flexor region.  I treated her according to the teachings of my teacher, Dr. Tan's Balance Method Acupuncture.  Prior to needle insertion, she experienced pain with lifting her leg and pulling her knee to her chest.  Within minutes of needle insertion, her pain decreased by 40%. She also came in with shoulder pain that day and it decreased by 40% as well.  The patient did not complain much about the previous achilles pain that we had successfully treated from February until March (with a total of 8 treatments at the time).  I also treated her right foot pain, located midway between the medial and lateral ankles (malleoli; just medial to the extensor digitorum longus).
When the patient returned on June 11, she expressed that her hip still felt 40% improved from our first treatment for her hip flexor pain just two days prior.  Her right foot pain felt "a million times better."  She was able to dance "on point" with no pain.  Her right shoulder had improved significantly from the previous treatment.  This professional dancer claimed to be "on fire" when describing her ability to again do aerials with ease during dance rehearsal.  She had been unable to do so prior to our treatment on June 9.
During her treatment on June 16, we were no longer needing to concentrate on her right foot or shoulder pain.  We only had left to treat the hip flexor pain.  She was at 50-60% improvement by this third treatment specifically for hip pain.
On June 19, she was still worried about her hip pain.  I decided to be far more aggressive to treat her hip pain because she has several major dance performances this coming weekend.
Today on June 23, the patient returned with 80% improvement in her hip flexor pain.  Today is her fifth treatment for this specific pain. She has paid a total of $300 for 5 visits to once again be more confident as a professional dancer.
These are the FANTASTIC RESULTS!
___
Case study #2
I have a 60-year old woman who had a complete knee replacement in 2002.  Since her surgery, she has had intermittent pain and constant swelling in her left knee.  When the swelling in the knee gets bad, she is unable to bend her knee.  The level of her pain is a 1-2 on a scale between 1-10 (10 being the highest level of pain).  The focus of our treatments is to reduce the pain, bring back feeling in her knee (despite the fact that they cut the major nerves that supply feeling in the area and reduce the swelling in her knee.
This patient's first treatment was on June 12, 2009. On her return visit on June 16, there were no improvements yet with her knee.  She did, however, notice that her nocturia had decreased.  There were 2 out of 4 nights where she did not have to wake up at all to urinate.  She typically would have to wake up 2-3 times a night to urinate.
The patient return on June 18 and received her 4th treatment today on June 23.  The patient reports 50% improvement with the swelling in her left knee.  No improvement yet with numbness.  Nocturia has decreased from 2-3 times a night to 1-2 times a night.  I did not ask her about her pain today.
The patient's investment in her health so far to achieve 50% improvement with her knee swelling due to surgery in 2002 is $260. This patient is due to return this Thursday and for  a few more weeks, twice a week.  After several more weeks, she'll evaluate if she would like to continue with commitment to therapy in order to help her completely GRADUATE from her ailments.
I have a very optimal prognosis for her therapy at my healing center!
___
Case study #3
A 53-year old woman has received a total of 21 treatments from me, including her treatment today.  She initially came in for weight loss and back pain.  During treatment #12, she decided to have me treat her right lower leg pain.  She did not think that I could help with that because she had broken it during a car accident in April 2006.  We made miracles happen with her back pain that when she no longer had it, she decided to add the leg pain to combine with her weight loss therapy.  Since May 1, 2009 (her 12th treatment), we started working aggressively to heal her chronic lower leg pain.  She has received 10 treatments since May 1.  Her pain today is reported at 50% improvement.  Dates of treatment specifically for her previously broken leftleg were May 1, 8, 15, June 2, 5, 9, 11, 16, 19 and 23.
This patient's PPO insurance pays for all of her therapy. After she had met her deductible, her insurance has been paying a high amount per treatment.  I bill $400+ per treatment to my patients' insurance. (The insurance pays a percentage of my total billing fee.)
50% improvement for 10 treatments for a broken leg in April 2006 is dramatic improvement! My patient has less intense pain.  The pain is no longer constant.  She can go up and down stairs with more freedom.
Anna, Thank you so much for making the extra effort to see me yesterday. It did make a big difference with the herbs and acu. I started to feel human again last nite around 5/6pm. Elijah asked me why I didn't go to the doctor and I told I did go to my doctor. Her name is Anna, she's Gily's Mom. So thanks again, doc.

-Matt Greene, L.Ac. (licensed acupuncturist) located in San Clemente
Hi Anna,

I wanted to share the great news.  I bought new clothes this past weekend that are 4 sizes smaller then the clothes I wore the first time I saw you!  The last time I wore this size clothing was over 15 years ago!   My food cravings for sweets are totally gone and junk food, cookies, ice cream and the downfall of the world Chocolate does not interest me at all!!!!  Thank you again for helping me become healthy and beautiful.

Anne
___
Some people ask me that they'd like to do the same thing:
Well, Anne has been a committed patient since 2007. We have focused on her sugar cravings since October 2008.  We saw tremendous results with her weight loss in a span of 6 months.

I have also been a committed patient since 1994.  I lost a lot of weight.  I lost about 4 sizes and it still takes work to keep the figure right.  Can you lose weight?  Yes, you can!  With commitment to YOURSELF, YES, YOU CAN.

___

Some of our testimonials that can be found at:
In great health and happiness,
Anna N. Dolopo, M.T.O.M., L.Ac.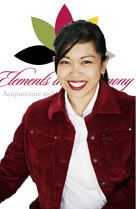 cell/text: 619 341 4341
Providing EXCELLENCE in the field of Chinese medicine.
Effective
Relaxing
Affordable
23151 Verdugo Dr., Ste. 109
Laguna Hills, CA 92653
Please read more about my work at: